pAYMENT, CANCELLATION, & REFUNDS
The entire cost of The Gathering and bus transportation is payable in full at time of registration. You can pay by credit card (Visa, MasterCard, American Express, and Discover), check, or money order in US funds. We are not able to take Venmo, Zelle, or CashApp payments at this time. Sorry, payment plans are not available.
Each applicant – including couples – must submit a separate registration form using their unique profile and login credentials.
A confirmation email will be sent to your email address on file with GNI. Confirmation emails will not be sent until June 1 at the earliest. This email contains your Front Gate Pass, confirmation code, and additional instructions/information needed to help plan for your naked vacation. You are not required to print any documents to bring with you. If you are driving, we recommend that you print the confirmation email and place your Front Gate Pass on your dashboard when you park your vehicle to help us identify the owner in case we need to contact you. Return to Top
GNI'S CANCELLATION & REFUND POLICY
How to officially cancel your registration: Send an email to the GNI Business Office at gni@gaynaturists.org with your request to cancel your registration. You can cancel for any reason up to and including August 1; after August 1, there are no refunds for any reason. See the refund schedule below. Do NOT call the Business Office and verbally request to cancel; you must notify us in writing.
Cancellation requests received on or before July 15, by anybody who has not paid the Cancellation Guarantee at time of registration, will be honored less a $139 cancellation fee.
Cancellation requests received after July 15 will be refunded per the following schedule:
July 16 – August 1: 50% penalty
After Aug 1: No refund for any reason even if you purchase the Cancellation Guarantee (we recommend you purchase Travel insurance) Return to Top
WHAT GNI WILL REFUND (Before August 1)
Gathering fee
Donation(s)
Linen rental fee
Bus transportation fee(s)
Day extension(s)
Off-camp excursions (whitewater rafting, New York tour, if offered). Return to Top
Membership fee
Cancellation Guarantee
Credit Card processing fee
Á la carte mailing fee
Linen cancellation requests made after August 15
The total amount refunded will be based on whether or not the Cancellation Guarantee was purchased at the time of registration. For refunds requested that have not been secured by the Cancellation Guarantee, they will be calculated based on the refund policy rates listed above.
Credit card refunds will be processed within 10-business days from the date of the request in writing. Check and money order refunds will be processed within 30 days from the date of the request. All refund requests must be made in writing to the GNI Business Office by e-mail or postal mail. We cannot transfer fees paid to a future year or to another person. Return to Top
If you request and pay the Cancellation Guarantee fee when you register, and are unable to attend The Gathering for any reason, you may cancel your registration until August 1 at no further cost. After August 1, there are no refunds for any reason, even if you purchase the Cancellation Guarantee. Consider purchasing comprehensive travel protection in case you have any concerns about needing to cancel anytime. If you do not purchase travel protection, the Cancellation Guarantee will not protect you after August 1 when the "no refund" policy takes effect. Return to Top
GNI Gathering fees and associated travel-related costs can add up quickly. It's your hard-earned money so why take the chance on having your Gathering or vacation interrupted for reasons beyond your control? Protect your travel investment with a professional Travel Protection plan. GNI has partnered with TripAssure to protect all of your travel plans, no matter where you go anytime of the year.
A travel protection plan is a package of benefits and services intended to protect your investment, your personal belongings, and you. Most plans provide benefits for:
Trip cancellation
Trip interruption
Medical expenses
Missed connection
Travel delay
Baggage loss
24 / 7 Worldwide Traveler Assistance
GNI offers a comprehensive travel protection plan. Use it to secure your investment for the GNI Gathering or use it anytime for any other travel-related reason, i.e. holiday vacations, testing your luck rolling dice in Las Vegas, surprising your loved one with dinner and a show on Broadway, or taking that long awaited vacation overseas.
Compare our plans, coverage, and benefits and select the plan that's best for you by clicking on the logo below or call Customer Service at (800) 423-3632. Return to Top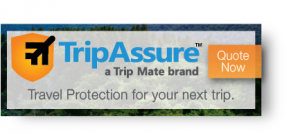 WHAT'S THE DIFFERENCE BETWEEN THE CANCELLATION GUARANTEE AND TRAVEL PROTECTION?
GNI's Cancellation Guarantee allows a member to cancel his registration without paying the cancellation fee until August 1. The Cancellation Guarantee DOES NOT allow you to cancel and request a refund of your Gathering registration fees for any reason after August 1. There are no refunds after August 1 for any reason, even if you purchased the Cancellation Guarantee.
If you need to cancel and request a refund after August 1, you must purchase Travel insurance that allows you to cancel at the last minute which the Cancellation Guarantee DOES NOT allow you to do. GNI's travel insurance company – TripAssure – may offer travel protection with trip cancellation. You must purchase this coverage separately from TripAssure directly.
Please consider purchasing Travel Protection. This coverage protects you not only from a last minute trip cancellation, but also offers protection for many other things listed above and more. You are responsible to insure your travel investment; TripAssure helps you do that easily and affordably. Return to Top