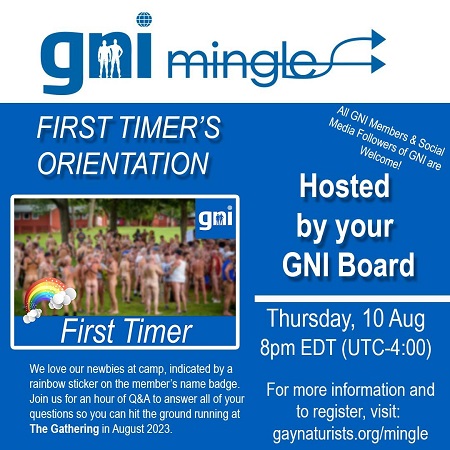 Mingle
Volunteers: First Timer Orientation
Hit the ground running by attending this First Timer Orientation Mingle. We'll answer all your questions during this Mingle. If it's your first time or you've been coming for years, find out what's going on this year. No question will go unanswered!

Description of our Mingles:
Due to the COVID-19 pandemic, we created our Mingle parties in March 2020 because we wanted to keep everyone connected and social nudism alive throughout the year by bringing like-minded men together for a time of fun, interactive, social nude recreation. As the pandemic emergency wanes, we continued to offer Mingles on a monthly basis but declining interest and participation by our community has prompted us to make a change with our scheduled online activities; thus, we will schedule Mingles on an "as-needed" basis covering specialized topics related to GNI and our annual Gathering. Mingles are open to participants 21 and over.
Please send us an email to request information about our next Mingle. You will receive an auto-reply email from us with detailed information about our event along with the appropriate Meeting ID, Password, and link to our private Zoom meeting room.
If you don't receive an email from us in your inbox, please check your junk or spam file, or you may have originally mis-typed your email address.
Important Announcement: Stay in the know! If you want to receive advance notice of our upcoming Mingles by email, you *MUST* subscribe to our Mingle subscription list. Requesting our Zoom information does not automatically subscribe you to our email list. Sign up for our email list to receive information on our next event and we'll automatically send you the information! (International privacy laws require us to send email only to those that subscribe to our email, click here to subscribe).

Basic rules / etiquette for the room:
• Video and audio must be on
• All participants must be 21 or older
• This is a non sexual, social nudist event
• Be kind to each other - violators will be removed
• Understandably, sometimes technology fails. GNI is not responsible for connectivity or Zoom performance issues. Please be respectful if you experience technological issues.
• Be aware there is always the possibility for 3rd party hackers or members to illegally record or photograph their screen. GNI intends to maintain the privacy of the individuals who participate in our Mingle parties, but cannot guarantee such privacy. GNI shall not be held liable, and is hereby released from liability, for any violation of its privacy policy by participants in any of our online parties. Liability for any such violation shall rest solely with the person committing the violation.
---