One Yoga Retreat, led by Michael

Retreat Overview
Whether you are new to yoga, haven't been practicing regularly, or want to add a challenging element to your Gathering experience, then this retreat is for you. The popular retreat will greatly enhance your camp experience in ways that may surprise you. Held during Opening Weekend, it also offers a pleasant way to gradually slide into a week at camp.
Class size is limited; twenty four (24) for Yoga Foundations Return to Top
Yoga Retreat Option
Click for more information:
Schedule
This retreat is only available during Opening Weekend (Aug 16 - 18, 2024). You must be registered for an Opening Weekend attendance option to attend a Yoga Retreat.
Anticipate a Friday evening session, 3 Saturday sessions, and a Sunday session
Allot 90 - 120 minutes for each session
All classes will be nude Return to Top
Cost
The fee to attend the Weekend Yoga Retreat is $125
Instructors
Michael (Basic / Beginner class) is a certified Power Yoga Instructor and the founder of "Central Ohio Nude Yoga for Men" (COHNUGA), a men's nude yoga group that meets Columbus. A few years ago, he opted for an early retirement from his IT job to make yoga his primary focus. In addition to COHNUGA, he is a yoga instructor at The Dharma House Columbus and working with private clients. Michael has been teaching yoga at GNI since 2013. Check out his bio. Return to Top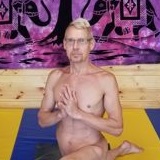 How to Sign Up
To join the retreat, select the Yoga Retreat option when you register, or at any time before the start of the retreat. Look for the "BE & Yoga eligible" attendance option and choose only one (1). Contact the GNI Business Office for assistance.
Would you like to bunk with other yoga attendees? Select a Yoga Cabin on the registration form to bunk with other yogis.
At the end of the retreat, you will walk away with a new sense of connection – new skills to get in touch with your body, to find peace in your daily life, and an openness in your heart that enables a connection both within you and with others.
Our yoga retreat is very popular and it sells out quickly. We suggest you sign up as soon as you register. Return to Top